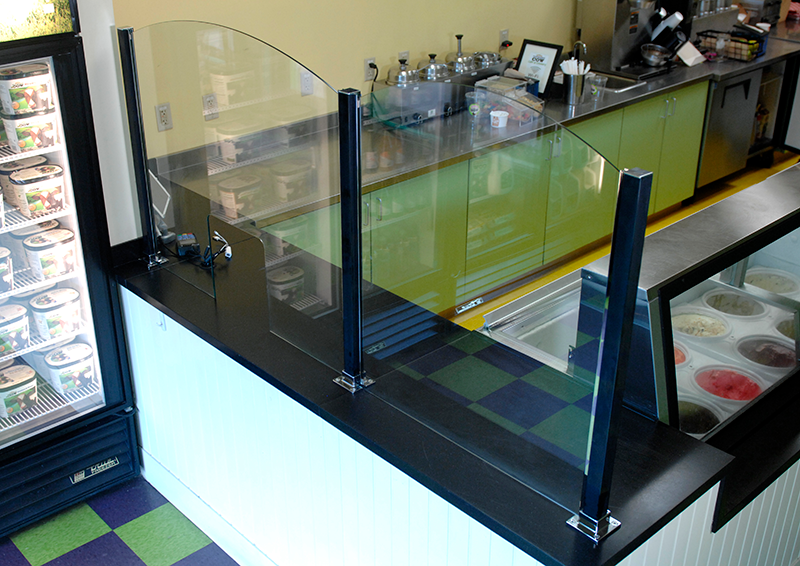 ANTIMICROBIAL GLASS
Viruses & bacteria can't stick to or grow on the glass.
FULL COVERAGE PROTECTION
Patent-pending design rests glass on counter with no air gap.
EVER CLEAR TECHNOLOGY
Easy to clean glass stays crystal clear year after year.
100% MANUFACTURED IN THE USA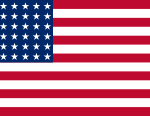 designed for every industry
retail & Offices
Salons | Train Stations | Lawyer Offices | Banks | Grocery Stores | Small Retailers | Large Retailers | Auto Dealers | Motorcycle Dealers | Farm Equipment Dealers | Post Offices |  Government Agencies | Office Cubicles | Gas Stations | Race Tracks | Jewelry Stores | Town Halls 

healthcare
Hospitals | Medical Offices | Dental Offices 
Hospitality & education
  Restaurants | Night Clubs | Casinos | Hotels | Resorts | Cruise Lines | Commercial Bathrooms | Airports | Prisons | Nursing Homes |  Universities | Schools | Day Care Centers | Truck Stops 
Choose from stunning glass options
Magic Tech Image-in-Glass Technology
Full color HD quality images directly on glass – including your own logo! Gorgeous, unique, and vibrant option for guards that are both decorative and functional.
Crystal Clear & Antimicrobial
Our most popular choice for retail and ordering counters, points of sale, and entryways. Glass so clear it's almost invisible. 
No matter which glass you choose, all Safety Shields include:
ANTIMICROBIAL
Viruses & bacteria can't stick to or grow on the glass.
full coverage
Patent-pending design rests glass on counter with no air gap.
EVEr CLEAR TECH
Easy to clean glass stays crystal clear year after year.
patent-pending posts & colors
Full Coverage Protection
Our innovative posts allow the glass shield to drop all the way down to the counter – leaving no "air gap" and providing full coverage protection. 
Multi-Colored Posts
We are the only company offering TWO color posts!
Now you can design a safety shield to perfectly match your interior and brand colors. 
case study – us post office
Location: Bozrah, Connecticut
Problem: This post office needed a uniquely-sized solution to protect Postal Workers and the Community. They wanted something permanent that celebrated their country-town location and could uplift visitors.
Solution: Two custom designed Safety Shields with the town name and zip code proudly displayed between red/white/silver tri-colored posts, representing the wonderful town and resilience of Americans everywhere.
case study – cafe Creamery
Location: Mansfield, Connecticut
Problem: Changing state mandates and a desire to protect their community, The Farmer's Cow Calfe & Creamery needed guards that would allow them to stay open for business no matter what. They wanted something friendly to compliment their fun vibe.
Solution: Three custom designed Safety Shields with black and silver posts that seamlessly blend with their counters and ice cream displays. Now the Calfe doesn't have to worry if state mandates change, because these guards are antimicrobial – above and beyond minimum requirements – and durable.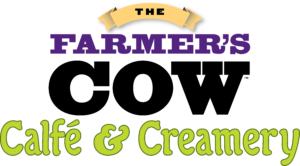 LOCAL EATERY USES CT-BUILT COVID SHIELDS
MANSFIELD — The Farmer's Cow Calfe & Creamery restaurant in Mansfield, CT is among the first restaurants in the country to install new antimicrobial glass safety shields.
The recently installed shields feature the only antimicrobial glass panels offered with a very high-tech metal post system designed and manufactured in New England, according to a release from the Farmers Cow.
Magic Safety Shields, based in Connecticut, designed the fixtures.
The antimicrobial glass does not allow any virus to land on the glass and maintain its presence there, claims the Farmer's Cow release.
The panels at The Farmer's Cow Calfe & Creamery in Mansfield are placed on all areas of contact – including where an order is placed and the large pick-up counter area.
"Customers immediately noticed the beautiful new panels and posts and asked about them. After we described what they really do, we heard a lot of 'thank you for caring' coming back from customers. That's what's really important to us," said Farmer's Cow Vice President Coryn Princevalle.
Magic Safety Shields founder Michael Krasun said "I have been in the architectural glass and metal business for over 30 years and have never seen such an urgent need for a fully functional guard system that includes a true antimicrobial glass panel.
"With all of the potential placements in many markets and industries that have differing design needs, we decided to introduce our new Magic Trax Posts System, which offer a very high level of architectural design features and finishes.
"Simply stated, the Plexiglas panels may stop direct contact between the retail operator and the customer, but bacteria and viruses can hang out on the surface of the divider for days. That's a lot of germs from a lot of different people," Krasun said.
Originally published in The Chronicle – July 31, 2020
https://www.thechronicle.com/stories/20200731SHIELDS.php
These new SAFETY SHIELDS have been just fantastic! Not only for our safety working here with all the day-to-day close contact, but so many of our clients have expressed great relief to see something of this high quality installed when everything else is plastic panels.
When customers discover these not only look great, but learn they are actually antimicrobial glass panels the most common response is …"What?! That's awesome!" I'm really glad we can provide these for the community. 
We were the first installation in the United States of the brand new SAFETY SHIELDS, and we love them! They are very well made and match our brand style. The fact that they are antimicrobial as well is so impressive. We wanted to tell our customers and make them feel really safe, so we've been putting it in our marketing. The results from our customers has been fantastic! It's by far one of the most challenging times for restaurant owners, and these guards are really giving us an edge-up. 
your design or ours – you decide
Send us your LOGO, picture, or anything else you'd like on glass and we'll make sure it looks great!
Or if you'd prefer, choose from our Design Catalog.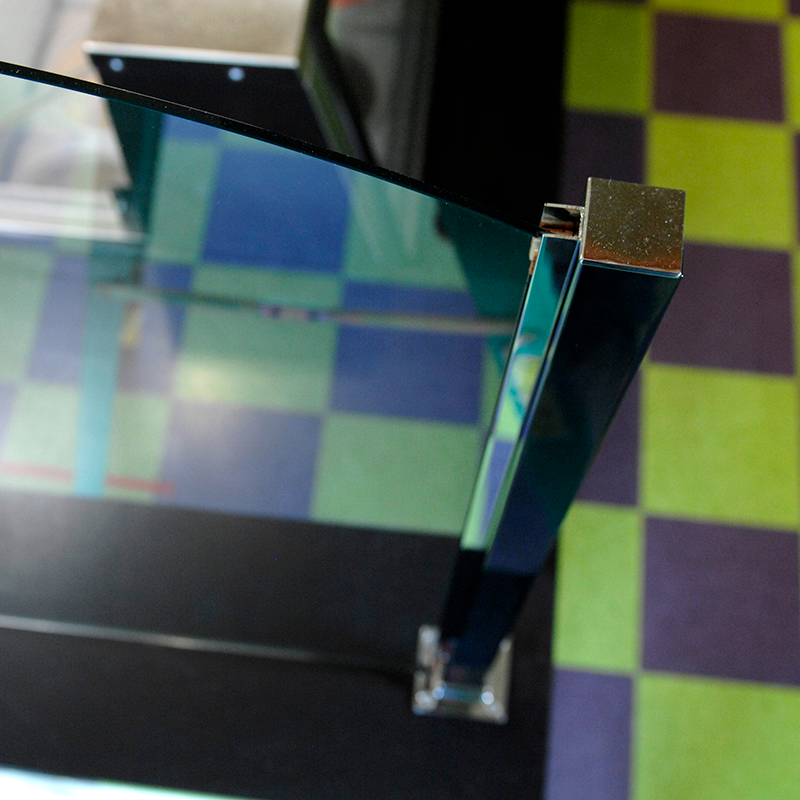 Address
144 Bozrah Street, Building #3
Bozrah, CT. 06334
Mail To
PO Box 158
Bozrah, CT. 06334
we accept

Protecting Our Communities
  Proudly Made in the USA